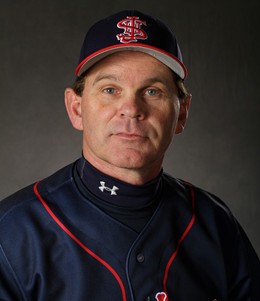 On the day of my last blog post we were preparing for the home opener against the University of Minnesota Morris. It was great to see the sun that day and our bats came alive early in the bottom of the first. While it was a decisive win for us we knew that the challenging conference schedule was looming. And, as we have learned over the years, both the weather and the competition can be humbling this time of year. Heading into tomorrow's home double header versus Gustavus we sit at 4-3 in the MIAC and 16-8 overall. The second game of our double header at Carleton was suspended in the 11th inning due to darkness with the score tied 3-3. Thanks to our beautiful ballpark lights that will never happen at SJU.
So far our play in the MIAC has been as unpredictable as the weather. When you play in conditions that register a wind chill sometimes the bats go cold, as was the case for us over a stretch of about four games. In our last three wins, however, our offensive production returned and it was certainly great to get the sweep against Macalester on Tuesday. This gives us some much needed momentum heading into tomorrow where we hope to have a big crowd enjoying the return of spring temperatures…about a 40 degree swing from Tuesday in St. Paul.
I suspect that our parents will be happy with the forecast as they are hosting the annual Diamond Dash 5K Run. Registration and check in begins at 10:00 a.m. tomorrow on the new plaza and the race begins at 11:00. I hope you will join us and then enjoy some great baseball beginning at 1:00 p.m. In many ways the grind of the MIAC conference schedule is kind of like running a 5K. With seven games down and thirteen to go, you might say we just passed the 1.2 mile marker.
Looking ahead to next week we will be returning to Northfield on Sunday afternoon to complete the suspended game against Carleton. On Wednesday we host St. Olaf for a double header beginning at 2:30 p.m. followed by a trip to Augsburg for another double header on Saturday the 23rd. As I have shared with the team, we have a lot of baseball yet to play so stay focused and play hard.
One last reminder, we will be dedicating our new ballpark and plaza on Saturday, May 7th immediately following the first doubleheader game versus Concordia. The day-long celebration will begin at 11:30 a.m. with music and a barbeque on the plaza and the ceremony at approximately 2:30 p.m. If your schedule allows please makes plans to join us for that day as well. Thanks again for your interest in Johnnie Baseball!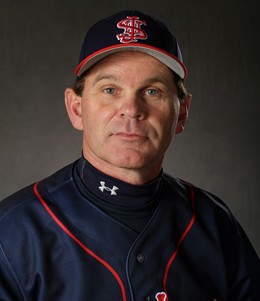 There is nothing more anticipated in baseball than the home opener. It is a special day for ball players, coaches, parents and fans. But in Minnesota there are no guarantees as we are all at the mercy of Mother Nature in late March. Today I have great news for Johnnie fans. As I put the finishing touches on this blog I can safely say it is a beautiful day for baseball in Collegeville. At 2:30 p.m. this afternoon we host the University of Minnesota Morris and the boys are anxious to take the field in our home ballpark. We hope to have a great crowd and the players are excited about the new 2016 SJU baseball video that just went live last night. (Video can be found below.) It has already received hundreds of views by our CSB and SJU students and I hope you will check it out as well right here on the blog.
While it is great to be back home I have to admit that last week in Florida was exceptional. The weather in Fort Myers was outstanding and we played some terrific baseball. We went 8-2 on our annual spring trip giving our guys confidence and momentum heading into the month of April and the heart of conference play. We continued our impressive offensive production scoring 80 runs over the ten game stretch. Even in the two games we lost we scored four runs and five runs, respectively. I liked our aggressiveness at the plate but we also exercised good patience. As well as we hit the ball, I was most pleased with the job we did on the mound. I threw seven different starters out there and they all went deep into the games, logging all but nine of the total innings pitched. We gave up a total 27 runs in ten games and not all of those we earned, of course. If we can keep our fielding errors in check the rest of the way we have an opportunity to do something really special this season.
Before we leave Florida in the rearview mirror I want to once again thank the parents, alumni and fans who came out to support the team throughout the week. Bill Boom, who recently retired from SJU, was at the ball park every day. Bob Ryan '52, Lou Gottwalt '54 and Ed Lehmann '70 were among the alumni who joined us for Thursday's double header and the barbeque social that followed. It means a lot to the players to get such great support from around the country. And we experienced the same thing in Arizona!
We take our overall record of 11-5 into today's game. This weekend we open conference play on Saturday here at SJU with a 1:00 p.m. double-header against Hamline. I hope to have more good news to share next week. Thanks again for your interest in Johnnie Baseball!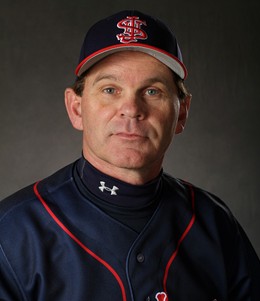 As I begin my 39th year as coach at Saint John's I could not be more pleased about of the state of our program. I am very fortunate to coach so many fine young men in a sport that I am passionate about. As many of you may have read in the recent issue of the Saint John's Magazine, the cover story featured several of our ballplayers and how they have excelled both on the field and in the classroom. I am very proud of all of our players, past and present. Our 2016 squad is talented and excited for the opportunity to make a repeat run at the MIAC Title. We have great leadership and they are focused on winning championships, working hard on their academics and, above all, being great teammates to one another.
Our program is also blessed with one of the top baseball park facilities in NCAA Division III. Thanks to the extraordinary generosity of so many of our baseball alumni, parents and friends we have a beautiful new complex that we will dedicate later this spring. The fact that we have been selected as the host site for the MIAC Baseball Playoffs – which will take place May 12-14, 2016 – speaks volumes about our venue. We are bidding to host the NCAA Regionals in the coming years as well.
The point of this blog is to keep you informed as alumni, parents and fans of our program throughout the year. The blog will give you a glimpse into our season, our players, as well our challenges and our opportunities. Each week during the season I will post a blog entry. As you know, we play a lot of games over a short period of time so I will not be providing game recaps. Ryan Klinkner does a fantastic job of writing those stories on gojohnnies.com which is directly linked to this blog. Here are a few things to look for on the blog:
1. Player profiles are shared at the bottom of the blog. The profiles summarize where the players come from, their academic focus at SJU and their future professional goals. This will help the student athletes connect to the SJU alumni and to bridge the gap with those who may be able to help them accomplish their goals.
2. Information about events like the Diamond Dash (Saturday, April 16, 2016), the Baseball Park Dedication or the Dunstan Tucker Classic Golf Outing (Monday, July 18, 2016).
3. The Johnnie alumnus spotlight. Once a month we will feature an update on a Johnnie Baseball alumnus. We will use this to showcase the success of Johnnies after baseball. Our goal is to share these profiles in the recruiting process to demonstrate that SJU not only provides a great education and baseball experience, but also serves as an exceptional foundation that leads to professional success.
I look forward to sharing this season's journey with all of you. This past weekend in Tucson, Arizona we split the six game schedule and take our season record of 3-3 to Fort Myers, Florida. Obviously I would have liked to have come away with another win or two, but it is very early in the season. We saw some good things out of our guys and we will play another ten games next week. I know that the players are looking forward to getting back to the sunshine and enjoying a welcome spring break from the books. Thanks for your interest in Johnnie Baseball!