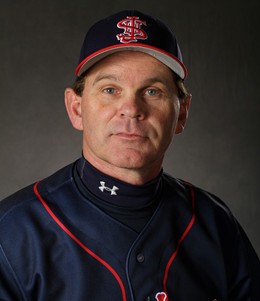 On the day of my last blog post we were preparing for the home opener against the University of Minnesota Morris. It was great to see the sun that day and our bats came alive early in the bottom of the first. While it was a decisive win for us we knew that the challenging conference schedule was looming. And, as we have learned over the years, both the weather and the competition can be humbling this time of year. Heading into tomorrow's home double header versus Gustavus we sit at 4-3 in the MIAC and 16-8 overall. The second game of our double header at Carleton was suspended in the 11th inning due to darkness with the score tied 3-3. Thanks to our beautiful ballpark lights that will never happen at SJU.
So far our play in the MIAC has been as unpredictable as the weather. When you play in conditions that register a wind chill sometimes the bats go cold, as was the case for us over a stretch of about four games. In our last three wins, however, our offensive production returned and it was certainly great to get the sweep against Macalester on Tuesday. This gives us some much needed momentum heading into tomorrow where we hope to have a big crowd enjoying the return of spring temperatures…about a 40 degree swing from Tuesday in St. Paul.
I suspect that our parents will be happy with the forecast as they are hosting the annual Diamond Dash 5K Run. Registration and check in begins at 10:00 a.m. tomorrow on the new plaza and the race begins at 11:00. I hope you will join us and then enjoy some great baseball beginning at 1:00 p.m. In many ways the grind of the MIAC conference schedule is kind of like running a 5K. With seven games down and thirteen to go, you might say we just passed the 1.2 mile marker.
Looking ahead to next week we will be returning to Northfield on Sunday afternoon to complete the suspended game against Carleton. On Wednesday we host St. Olaf for a double header beginning at 2:30 p.m. followed by a trip to Augsburg for another double header on Saturday the 23rd. As I have shared with the team, we have a lot of baseball yet to play so stay focused and play hard.
One last reminder, we will be dedicating our new ballpark and plaza on Saturday, May 7th immediately following the first doubleheader game versus Concordia. The day-long celebration will begin at 11:30 a.m. with music and a barbeque on the plaza and the ceremony at approximately 2:30 p.m. If your schedule allows please makes plans to join us for that day as well. Thanks again for your interest in Johnnie Baseball!
Read More →
2016 Johnnies Baseball Video